Age of Innocence,the
US (1993): Romance/Drama
133 min,Color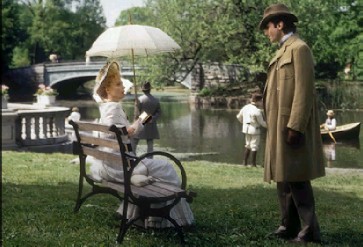 Newland (Daniel Day Lewis) : You gave me my first glimpse of a real life. Then you asked me to go on with the false one. No one can endure that.
Ellen (Michelle Pfeifer) : I'm enduring it.

-

Director: Martin Scorsese

Screenwriters: Jay Cocks,Martin Scorsese

(from the novel by Edith Wharton)

Performers:

Daniel Day-Lewis, Michelle Pfeiffer, Winona Ryder

Alexis Smith, Geraldine Chaplinm,

Mary Beth Hurt, Alec McCowen

WON 1 Academy Award:
Costume Design 1993: Gabriella Pescucci
Other Nominations:
Supporting Actress 1993: Winona Ryder
Writing - Screenplay (Based on Material Previously Produced or Published) 1993: Jay Cocks, Martin Scorsese
Art Direction 1993: Dante Ferretti - Art Direction, Robert J. Franco - Set Decoration
Music - Original Score 1993: Elmer Bernstein
---
Amadeus
US (1984): Musical/Biography
158 min,Color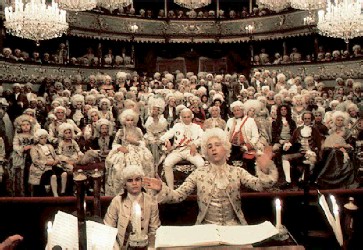 Antonio Salieri (F. Murray Abraham) : So, did my work please you?
Wolfgang Amadeus Mozart (Tom Hulce) : I never knew such sounds were possible!
Antonio Salieri: You flatter me.
Wolfgang Amadeus Mozart: No, no! One hears such music, and what can one say is... "Salieri."

_________________


Emperor Joseph II (Jeffrey Jones) : Your work is ingenious. It's quality work. And there are simply too many notes, that's all. Just cut a few and it will be perfect.
Wolfgang Amadeus Mozart (Tom Hulce) : Which few did you have in mind, Majesty?

-

Director: Miloš Forman

Screenwriters: Peter Shaffer (based on his play)

Performers:

Tom Hulce, F. Murray Abraham, Elizabeth Berridge,

Simon Callow, Roy Dotrice, Christine Ebersole, Jeffrey Jones

WON 8 Academy Awards:
Picture 1984: Saul Zaentz - Producer
Director 1984: Miloš Forman
Actor 1984: F. Murray Abraham
Writing - Screenplay (Based on Material from Another Medium) 1984: Peter Shaffer
Art Direction 1984: Patrizia von Brandenstein - Art Direction, Karel Cerny - Set Decoration
Costume Design 1984: Theodor Pistek
Makeup 1984: Paul LeBlanc, Dick Smith
Sound 1984: Mark Berger, Tom Scott, Todd Boekelheide, Chris Newman

Other Nominations:
Actor 1984: Tom Hulce
Cinematography 1984: Miroslav Ondrícek
Film Editing 1984: Nena Danevic, Michael Chandler

---
As Good As It Gets
US (1997):Romance/Comedy/Drama
138 min,Color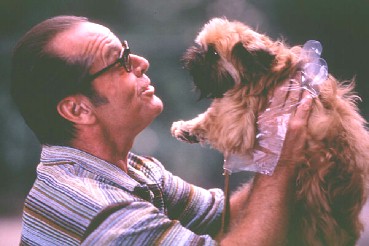 Melvin (Jack Nicholson) : Sell crazy somewhere else. We're all stocked up here.

________________

Melvin (Jack Nicholson) : You make me want to be a better man.
Carol (Helen Hunt) : That's maybe the best compliment of my life.
Melvin : Well maybe I overshot a little, because I was aiming at just enough to keep you from walking out.

-

Director: James L. Brooks

Screenwriters: Mark Andrus, James L. Brooks

(Based on a story by Mark Andrus)

Performers:

Jack Nicholson, Helen Hunt, Greg Kinnear,

Cuba Gooding, Jr., Skeet Ulrich,

Shirley Knight,Yeardley Smith

WON 2 Academy Awards
Actor 1998: Jack Nicholson
Actress 1998: Helen Hunt
Other Nominations:
Picture 1998: James L. Brooks, Bridget Johnson, Kristi Zea
Supporting Actor 1998: Greg Kinnear
Original Screenplay 1998: Mark Andrus, James L. Brooks
Original Musical or Comedy Score 1998: Hans Zimmer
Film Editing 1998: Richard Marks
---
Awakenings
US (1990): Drama
121 min,Color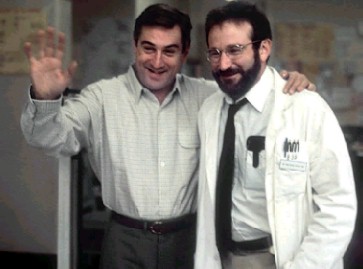 Mrs. Lowe (Ruth Nelson) : When my son was born healthy, I never asked why. Why was I so lucky?
What did I do to deserve this perfect child, this perfect life? But when he got sick, you can bet I asked why! I demanded to know why! Why was this happening?

_____________________

Dr. Sayer (Robin Williams): You told him I was a kind man. How kind is it to give life, only to take it away?
Eleanor (Julie Kavner) : It's given to and taken away from all of us.
Dr. Sayer: Why does that not comfort me?
Eleanor: Because you are a kind man. Because he's your friend.

-

Director: Penny Marshall

Screenwriter: Steven Zaillian

(based on the novel by Oliver Sacks)

Performers:

Robert De Niro

Robin Williams

Julie Kavner

Ruth Nelson

John Heard

Penelope Ann Miller

Alice Drummond

3 Academy Awards Nominations:

Picture 1990: Walter F. Parkes - Producer, Lawrence Lasker - Producer
Actor 1990: Robert De Niro
Writing - Screenplay (Based on Material from Another Medium) 1990: Steven Zaillian



---
Blade Runner
US (1982): Science Fiction
118 min,Color


Rick Deckard (Harrison Ford) : All they'd wanted were the same answers the rest of us wanted, where have I come from? Where am I going? How long have I got?
-
Director: Ridley Scott
Screenwriters: Hampton Fancher,David Peoples
(based on the story "Do Androids Dream of Electric Sheep?" by Philip K. Dick)
Performers:
Harrison Ford
Rutger Hauer
Sean Young
Edward James Olmos
M. Emmet Walsh
Daryl Hannah
William Sanderson
2 Academy Awards Nominations
Art Direction 1982: Lawrence G. Paull - Art Direction, David L. Snyder - Art Direction, Linda DeScenna - Set Decoration
Visual Effects 1982: Douglas Trumbull, Richard Yuricich, David Dryer


---
Braveheart
US (1995): Romance/Historical/Action
177 min,Color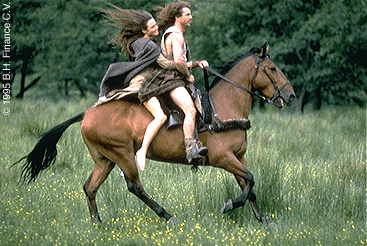 William Wallace (Mel Gibson) : Every man dies, not every man really lives.

______________

William Wallace: There's a difference between us. You think the people of this land exist to provide you with position. I think your position exists to provide those people with freedom. And I go to make sure that they have it.

-

Director: Mel Gibson

Screenwriter: Randall Wallace

Performers:

Mel Gibson

Sophie Marceau

Patrick McGoohaI

Catherine McCormac

Brendan Gleeson

James Cosmo

David O'Hara

WON 5 Academy Awards
Picture 1995: Bruce Davey - Producer, Alan Ladd, Jr - Producer, Mel Gibson - Producer
Director 1995: Mel Gibson
Cinematography 1995: John Toll
Makeup 1995: Peter Frampton, Paul Pattison, Lois Burwell
Sound Effects 1995: Lon Bender, Per Hallberg
Other Nominations
Writing - Screenplay (Written Directly For The Screen) 1995: Randall Wallace
Costume Design 1995: Charles Knode
Film Editing 1995: Steven Rosenblum
Music - Original Dramatic Score 1995: James Horner
Sound 1995: Andy Nelson, Scott Millan, Anna Behlmer, Brian Simmons


---
Breaking the Waves
Denmark / Netherlands / Sweden / France (1996): Drama
158 min,Color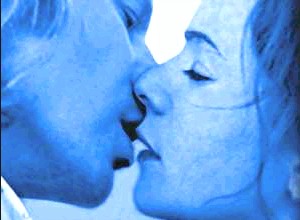 The Minister: We do not need bells in our church to worship God.

-

Director: Lars von Trier

Screenwriter: Lers von Trier

Performers:

Emily Watson, Stellan Skarsgård, Katrin Cartlidge,

Jean-Marc Barr, Adrian Rawlins, Jonathan Hackett, Sandra Voe

1 Academy Award Nomination:
Best Actress 1997: Emily Watson

---
Bridges of Madison County,the
US (1995): Romance/Drama
135 min,Color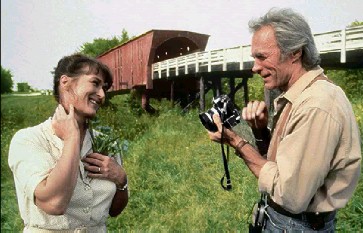 Francesca (Meryl Streep): And in that moment, everything I knew to be true about myself up until then was gone. I was acting like another woman, yet I was more myself than ever before.
-
Director: Clint Eastwood
Screenwriter: Richard LaGravenese
Performers:
Clint Eastwood Robert Kincaid
Meryl Streep Francesca Johnson
Annie Corley
Victor Slezak
Jim Haynie
1 Academy Award Nomination
Actress 1995: Meryl Streep


---
Cape Fear
US (1991): Thriller
128 min,Color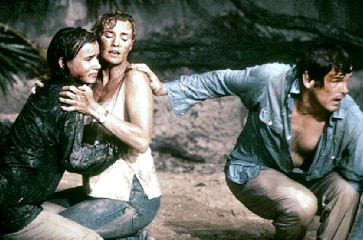 Max Cady (Robert De Niro) : Every man... every man has to go through hell to reach paradise.

_________________

Max Cady: I'm going to chop you into 42 pieces.

-

Director: Martin Scorsese

Screenwriter: Wesley Strick

(based on the 1962 screenplay by James R. Webb,

from the novel "The Executioners" by John D. MacDonald)

Performers:

Robert De Niro

Nick Nolte

Jessica Lange

Juliette Lewis

Joe Don Baker

Robert Mitchum

Gregory Peck

2 Academy Awards Nominations:
Actor 1991: Robert De Niro
Supporting Actress 1991: Juliette Lewis



---
Casino
US (1995): Drama/Crime
182 min,Color
Sam "Ace" Rothstein (Robert De Niro) : When you love someone, you've gotta trust them. There's no other way. You've got to give them the key to everything that's yours. Otherwise, what's the point? And, for a while, I believed that's the kind of love I had.

-

Director: Martin Scorsese

Screenwriters: Martin Scorsese,Nicholas Pileggi

Performers:

Robert De Niro

Sharon Stone

Joe Pesci

James Woods

Don Rickles

Alan King

Kevin Pollak

1 Academy Awards Nomination:
Actress 1995: Sharon Stone
---
Chariots of Fire
UK (1981): Sports/Drama/Biography
123 min, Color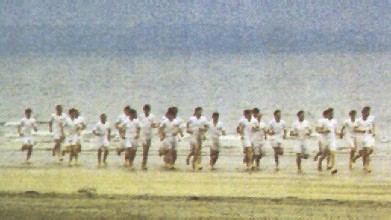 Eric Liddell(Ian Charleson) : I believe God made me for a purpose, but he also made me fast. And when I run I feel His pleasure.
-
Director: Hugh Hudson
Screenwriter: Colin Welland
Performers:
Ben Cross Harold Abrahams
Ian Charleson Eric Liddell
Nigel Havers Lord Andrew Lindsay
Nick Farrell Aubrey Montague
Ian Holm Sam Mussabini
John Gielgud Master of Trinity
Lindsay Anderson Master of Caius
WON 4 Academy Awards
Picture 1981: David Puttnam - Producer
Writing - Screenplay (Written Directly For The Screen) 1981: Colin Welland
Costume Design 1981: Milena Canonero
Music - Original Score 1981: Vangelis
Other Nominations
Nominated for Supporting Actor 1981: Ian Holm
Nominated for Director 1981: Hugh Hudson
Nominated for Film Editing 1981: Terry Rawlings